Optimizing Windows 9.x for Fighter Ace
The dialog box below displays when you use the [Ctrl]+[Alt]+[Del] keys together, holding down the [Ctrl] key as you press the [Alt] key and the [Del] key's together. You want to perform the [Ctrl]+[Alt]+[Del] key combination once, if you execute this command rapidly twice in a row, you'll reboot your computer. The contents of this dialog window are those applications that are currently running on your computer. You may even see applications that are not apparently visible in your System Tray (lower right hand corner of screen), those items that are launched in your Startup folder or those applications that launch from the Run section of the Windows Registry.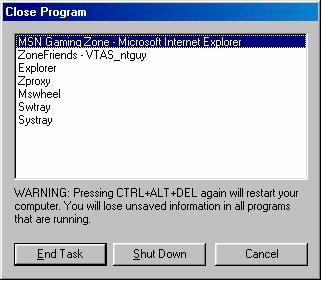 Description of contents of Close Program dialog window
MSN Gaming Zone - Microsoft Internet Explorer, this is a browser with http://www.zone.com/fighterace open.

Zone Friends - VTAS_ntguy, this is the Zone Friends application with VTAS_ntguy logged on.

Explorer, this is your Windows desktop application

Zproxy, program related to Zone Friends Application

Mswheel, I have a 'wheel mouse', this item could be closed since the wheel does not provide any function in Fighter Ace.

Swtray, I have a Microsoft Precision Pro FFB joystick, this program is required to customize the button selections on the joystick.

Systray, this application provides the display in the lower right-hand corner of your screen, it displays those applications that have a user interface, i.e., Clock, Speaker Volume etc.
To CLOSE an Application, highlight the item with your mouse by clicking once with the left mouse button.
Then select End Task, if a dialog box indicates that the Application is busy, would you like to wait, Select End Task again.
NOTE: Turn off anti-virus software and if you see applications like fastfind (MS tool for indexing directories) or ocrware (scanner agent for converting graphics to text), close these applications prior to launching Fighter Ace.
Applications are launched from several different locations in Windows 95/98.
The Startup Folder located at "C:\WINDOWS\Start Menu\Programs\StartUp"

The run= or load= entries of the C:\WINDOWS\WIN.INI file

The registry in the folder HKEY_LOCAL_MACHINE\Software\Microsoft\Windows\CurrentVersion\Run

WARNING: Using Registry Editor incorrectly can cause serious problems that may require you to reinstall your operating system. Microsoft cannot guarantee that problems resulting from the incorrect use of Registry Editor can be solved. Use Registry Editor at your own risk.

For information about how to edit the registry, view the "Changing Keys And Values" Help topic in Registry Editor (Regedit.exe) or the "Add and Delete Information in the Registry"

Note that you should back up the registry before you edit it.
Final Word: The less you have running when you're playing Fighter Ace, the less chance you have of an application interfering with your on-line gaming session.