System Information
Microsoft Windows 98 provides a utility that displays a tremendous amount of information about your computer and allows you to to review, update, modify and backup or restore this information.
The default location for this utility is:
From the Start Button, Programs | Accessories | System Tools | System Information
The main page displays the following information: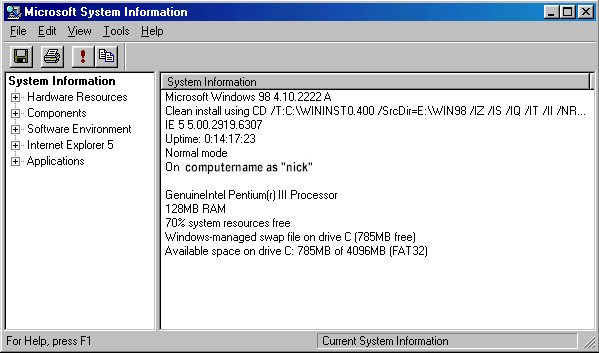 NOTE: I've changed the computername and logon name to generic terms
The main screen identifies the version of Windows you currently have installed, the installation path, the version of Internet Explorer you currently have installed, how long your computer has been running. The type of Processor, amount of Memory (RAM) and the current percentage of system resources available. Finally it reports the size of your swapfile (NOTE, no swap file size displayed, see SYSTEM.INI tweak) and the amount of disk space remaining on your hard drive.
There are five main categories: Hardware Resoures, Components, Software Environment, IE 5 and Applications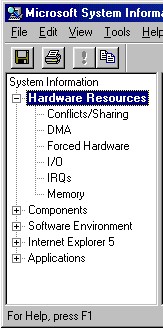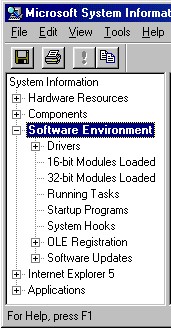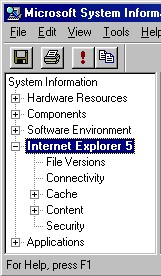 Each Category contains many sub-sections:
Hardware contains information regarding your comp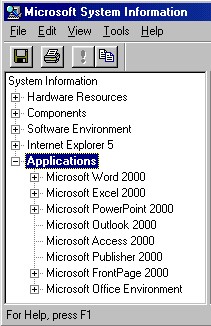 uters IRQ's (Interrupts), and displays conflicts if any. Conflicts appear as an ! in Device Manager (Control Panel | System).
Components displays information about specific devices in your computer including possible Problem Devices.
Software Environment displays information regarding Drivers and their version, currently running tasks (Same as [Ctrl]+[Alt]+[Del]) and those programs that are in your Startup Folder.
Internet Explorer 5 displays information about the current configuration of Internet Explorer 5 (don't know if it displays other browser information).
Applications displays current information about registered applications that are currently running.